So, there's this football game you might have heard about coming up Monday. Vikings vs. the Pack, with some old dude quarterbacking the Vikings. Not looking forward to the non-stop hype this weekend.
Should be a good game, though, and I really think the Packers will win-- if for no other reason than that the Vikings hired Mr. Noodle from Sesame Street to be their coach.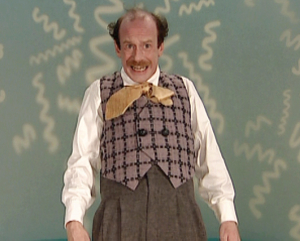 And though I don't want Brett to get hurt, I wouldn't be at all upset if he were to play really, really awfully. A Pick-6 to Woodson or Harris would be a nice finishing touch, really.
For football news that only briefly touches on Brett Favre, check out
this week's Tuesday Morning Quarterback
. For my money, still the best weekly football essay out there. With a free, and clearly explained, global warming analysis to boot!
Meanwhile, the Brewers continue their long fade back into the depths of mediocrity and the Badgers look to continue their strong start to the season. And the leaves are changing. I guess fall is here!