One of the joys of working at a library is the constant exposure to new authors and artists that is available to you. On the artist side of the equation, I am currently enjoying Coldplay's work, a band I had heard a lot about but hadn't really listened to previously. I like
Viva la Vida
quite a bit, so I hope the band and Joe Satriani can figure out the
plagiarism lawsuit
Satriani has brought against the group.
But I digress. The staff here at the Library has introduced me to the works of
Christopher Moore
, author of
Lamb: The Gospel According to Biff
,
The Stupidest Angel
and
Bloodsucking Fiends
. So, this Rave is for Christopher Moore. As you can probably guess from the titles, Moore's stuff is pretty irreverent-- and definitely not kid-friendly as it contains plenty of profanity and what the
MPAA
(Motion Picture Association of America) would label Adult Themes. They are also really, really funny in a quirky,
Douglas Adams
sort of way.
Interestingly, I have not read any of the books I listed above-- though I intend to read all of them in the near future-- but rather started at the end, with Moore's two latest novels:
A Dirty Job
and
You Suck
. Of the two, I liked
A Dirty Job
more, but they were both a blast to read (actually, listen to-- I "read" both of them in audiobook format).
You Suck
was fun since it is a vampire tale and includes a character who was once the Cheddar Queen of Fond du Lac, but the ending was somewhat abrubt and not entirely satisfying to me, plus it is a sequel to
Bloodsucking Fiends
, and I generally try to avoid reading sequels without reading the preceding book. But it was a hoot reading
You Suck
shortly after
Interview With the Vampire
, as the two retellings of the classic vampire story could hardly be more dissimilar.
But I found
A Dirty Job
to be the more engaging, laugh out loud funny of the two. Part of the preference might also be due to the performers of the audiobooks--
Fisher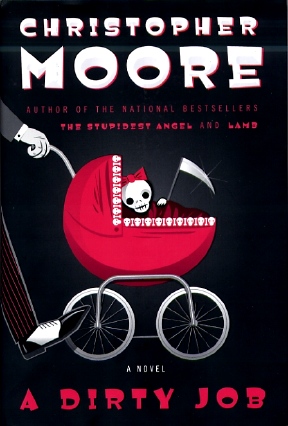 Stevens
is just awesome as the reader of
A Dirty Job
, while Susan Bennet is good, but not great, at reading
Yo
u Suck
.
At any rate-- I am looking forward to reading the rest of Moore's books. I don't think he'll make it into my very favoritist authors (Adams,
Terry Pratchett
,
Stephen R. Donaldson
), but I'm definitely anticipating some well-spent hours curled up with a good book. And if you're looking for some fresh, fun reading (or listening) and don't mind profanity and a rather peculiar viewpoint of the world, I recommend Chris Moore's stuff.