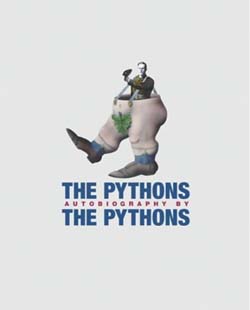 Monty Python's Flying Circus was, and is, a tour de force of comedy, satire, cultural insight, and good old-fashioned belly laughs. It was crude, it was rude, it was exquisitely funny and it was, perhaps above all, so quintessentially British (even though one of them was American).
The Pythons: Autobiography by The Pythons
is Big-- oversize coffee-table format and over 300 pages in length-- Beautiful-- chock full of photographs and screen captures from the show-- and, Bold-- could it be anything else, being Python?-- but is also an extremely good history of those six crazy lads from Britain (ok, four crazy Englishmen, one crazy Welshman, and one crazy American).
It is also a great history of their show and subsequent movies. How they actually wrote and performed the skits. The different influences each member had on the show. Terry Gilliam's recollections of how primitively he did his animations. Their transition to movies. The interactions of six brilliant, but radically different, personalities. The effect of fame and recognition on them. Outstanding.
On top of all that, this book really is in many ways an autobiography of Monty Python. Each of the members: Michael Palin, Eric Idle, Terry Jones, Terry Gilliam, Graham Chapman and John Cleese has a portion at the front of the book talking about their youth and family. Photographs from childhood and prep schools. There are recollections by each Python on how they met the other Pythons. Diary excerpts and interviews discussing how they got started, what the creative process was like, the impact of their growing fame on the group's dynamic.
Beyond the individuals, there is also a true autobiography of the troupe. The way Terry Jones and Michael Palin tended to write with each other, ditto John Cleese and Graham Chapman, with Eric Idle contributing on his own or to both of the other pairings and Gilliam's animation rolled into the mix as well. How they decided on what bits got in and which bits didn't. The filming process and how changes in their lives (various romances, Graham Chapman's drinking, etc.) affected the group.
Great stuff. Fascinating stuff. All of it simultaneously serious and completely irreverent, in typical Python fashion. If you are a Monty Python fan, you will enjoy this big, bold, beautiful book whether you read it cover to cover, sample bits and pieces, or simply browse the pictures and captions. It is in our Oversize collection with call #: 791.45028 PYTHONS